Recent Articles


What follows are some of Bob's recent articles.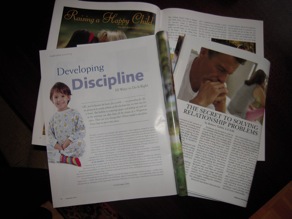 The first article,
Not Too Hot, Not Too Cold
is one of the more popular articles from my
Psychology Today
blog. It describes some of the qualities associated with being connected but yet independent in intimate relationships.


The second,
The Tao of Improv
was published in
Psychotherapy Networker
, one of the profession's more popular magazines. It describes the application of comedic improv rules to psychotherapy. You might find some interesting ideas to mull over and try out.

The Secret to Solving Relationship Problems
describes the good communication steps to solving all types of relationship problems. It was published by
Diabetes Self Management
magazine, a leader in consumer education for diabetic patients, but the tools can be helpful for tackling any relationship problems you may have. If you go to their website you can find another article of mine --
Creating New Holiday Traditions
. DSM's website is
diabetesselfmanagement.com.
How to Break Those Bad Discipline Habits
, originally was published by
Charlottesville
Family Magazine
. It highlights some of the common parenting styles that we all can fall into from time to time, and suggests ways to improve them. Hope those of you who are parents find this helpful.

Next you will find a description of an exercise that I use in all my trainings --
Life-Play Fantasy
. I developed this about 30 years ago and have been using it in various forms in my clinical work. I include it here because I often receive requests for its instructions. Try for yourself and see what you see.

The
Relationship Triangle
is an excerpt from my couples book. This is a good explanation of the common dynamics that develop between couples, the ways they create problems, and ways of changing them. I literally show this to everyone I see in therapy.


Making Relationships Work: The Big Four.
What this article describes are the core skills and challenges that face most couples, along with step-by step ways of putting these skills and concepts into operation.

Finally,
Relationship Repair: 10 Tips for Thinking Like a Therapist.
This one was another favorite on the
Psychology Today
site and even got translated into Russian. If you feel stuck in a relationship, you'll find that there is plenty you can do.

Thanks for looking. As always your comments are appreciated.